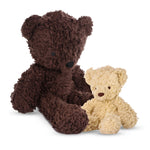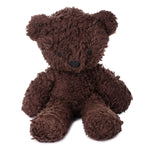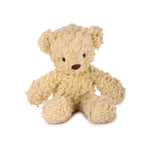 Mom & Baby Herbal Dye Sherpa Bear Bundle
SKU:
This special set includes one 14" Herbal Dye Sherpa Bear and one 10" Baby Sherpa Herbal Dye Bear. Mix and match the colors or get both the same color. 
As part of the Herbal Dye Collection, these bears are the safest teddy bears on the market. Their fur is made from 100% GOTS certified organic cotton, and they're stuffed with organic corn PLA fibers. They're dyed with vegetable pigments, meaning absolutely no chemicals are used in the creation of these sweet friends.
Men and women from underserved communities hand sew and stuff our plushies in facilities and earn fair-living wages.  No shortcuts are taken during the production of these bears. Plus, for every bear bought, we donate one to a child in need. 
Length: 10" and

 

14"
Width: 6
Herbal Dyed with Antibacterial Elements
100% hypoallergenic
Organic Corn PLA Fiber Stuffing
GOTS Certified 100% Organic Cotton
Embroidered Eyes
Hand Sewn & Stuffed